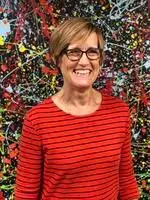 Credentials
Karen Graves, Ph.D. is a licensed clinical psychologist who has practiced in the Cincinnati area for the past 25+ years. Prior to working in private practice, she was the Clinical Director of a local child/adolescent community mental health center.
Populations Served :


* Children
* Adolescents
* Adults
* Families

In her work with children and adolescents Dr. Graves often includes parents and other family members to address parenting issues and family dynamics that may have developed over time. Behavior management strategies and communication skills training are important elements of this work. Close collaboration with other professionals involved with children, such as school personnel, physicians and psychiatrists is also considered essential.
Specialties: ADHD, Behavioral Problems, Anxiety, Depression, Parenting and Parent-Child issues, Family issues, Grief, Mood Disorders, Anxiety, and Stress Management.

Philosophy : I am certain that change is a fundamental part of life. There are times, however, that change is challenging both because of our internal struggles and because of the systems around us that impact our lives. I approach clients with a strong belief that they have the strengths to make the changes they need and want to make. I believe that therapy helps each person identify these strengths while supporting individualized ways to make optimal changes.


My approaches to treatment are drawn from Interpersonal Therapy, Cognitive Behavioral Therapy, Positive Psychology (strengths-based focus), and mindfulness practice.


Payment
Currently, Dr. Graves is not accepting insurance reimbursement. She will, however, give you needed documentation so that you can submit to your insurance company on your own. In addition, Dr. Graves is willing to consider a sliding fee based on your income.